Corporate Training Topics & Seminars
On Site Training
OSHA 10 & 30 Hour Training Construction & General Industry
Effective Training Techniques for Today's Safety Professional
The Fundamentals of Incident Investigation & Root Cause Analysis
Celebrating Our Cultural Diversity
Workplace Violence
YOU & YOUR SPANISH SPEAKING WORKFORCE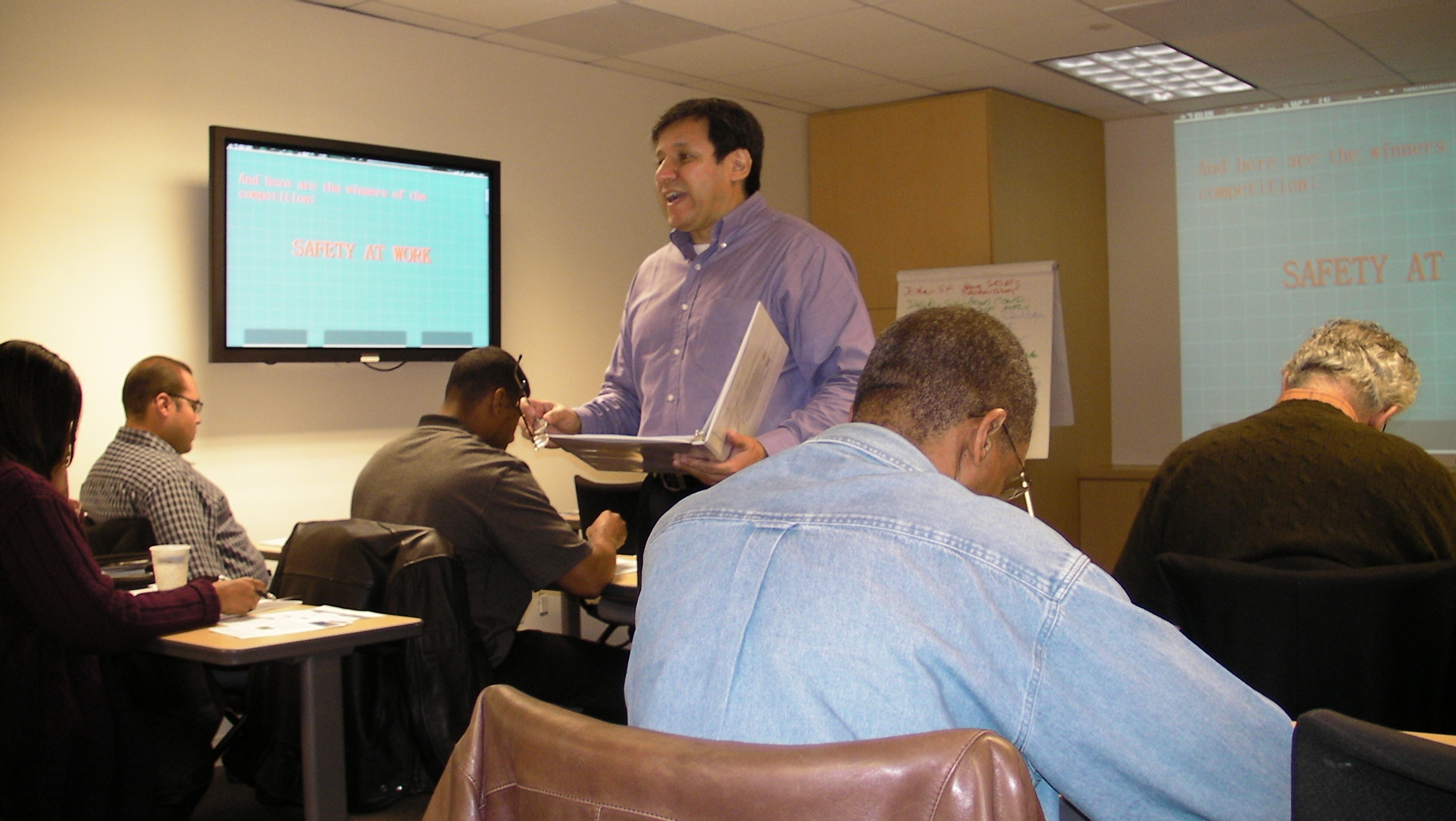 Root Cause Analysis Training
The BSI Training Philosophy
According to the Edgar Dale cone of experience, people remember:
• 20% of what they hear
• 30% of what they see
• 50% of what they see and hear
• 80% of what they do.
Armed with these statistics, BSI has adopted a training philosophy that utilizes audio, video, and experiential training to achieve the greatest return on investment in the safety training arena.
Based on focused feedback, BSI trainers perform pre-assessments with digital cameras and camcorders and create customized training programs that feature the employees themselves as living examples of both safe and unsafe ways to perform their job duties.
Interviews, tips, techniques, and training guidelines from fellow workers and supervisors are incorporated into the training sessions (both live and taped) to ensure that there is an identity with both the material being presented and the peer group of the people involved in the process.
Fit Testing/ Respiratory Protection Training
The Benefits of BSI Training programs
• Increased employee participation with existing safety programs
• Increased employee morale
• Increased productivity and workplace communication skills
• Fewer job related injuries
• Reduction in workers' compensation claims
Frequently Requested Training

The Key Elements to Incident Investigation /Root Cause Analysis

SUPER SAFETY VISION / Safety Skills for Today's Supervisors

The Power of Cultural Diversity

Effective Training Techniques That GET RESULTS

What to do When OSHA Comes a Knocking

Fall Protection Training

Contractor Safety & Your Spanish speaking Workforce

OSHA & Cal/ OSHA 10 hour or 30 hour Training Programs

How to Effectively Communicate & Work with your Spanish Speaking Workforce


Spanish Speaking Safety Meeting

Additional Frequently Requested Training

How to Develop & Implement Your IIPP / Injury Illness Prevention Program

Violence In the Workplace

Fleet / Vehicle Safety Training

Safety Orientation- in English & Spanish

Cultural Diversity Training

Supervisors Safety Communication Skills

The Fundamentals of Industrial Hygiene

"How to Train Your Spanish Speaking Workforce"

"How to Develop Your Spanish Speaking Safety Program"

"Success in the U.S. for Spanish speaking Employees

Sexual Harassment Training

OSHA Training Mexico City

OSHA TRAINING / Honolulu Hawaii
• OSHA 10& 30 Hr. Construction –English & Spanish
• OSHA 10& 30 Hr. General Industry-English & Spanish
• Cal/ OSHA 10& 30 Hr. Construction –English & Spanish
• Cal/ OSHA 10& 30 Hr. General Industry-English & Spanish
HAZWOPER SAFETY TRAINING